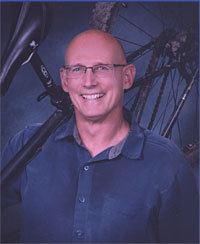 Through out my adult life I have struggled with my ability to do many things well. I have been a dilettante of sorts in an era that does not appreciate career diversity. I was originally Rolfed by Thom Droege in or around 1990. At that time, I was a drug and alcohol counselor at a therapeutic community.
Droege encouraged me to become a Rolfer then, but life took its own course. After having structural work from Jan Kiefer, a Guild Practitioner, I finally heard Droege's encouragement: Be a Rolfer. It seems as if I have finally come home.
I have been an athlete my whole life and Rolfings influence on my ability is subtle, yet complete and my sense of my self has helped me avoid repetitive use injuries and given me added balance on the ice, snow and water.I have been a runner since I was 14, a whitewater kayaker for 12 years. I telemark and cross-country ski and play ice hockey. Having spent 7 years as a drug and alcohol counselor at a therapeutic community, I value the chance to effect change in people's lives. Rolfing has direct and immediate impact and I cherish this. I look forward to working with you.
I trained at the Rolf Institute in Boulder and would like to acknowledge my lineage of teachers which include: Juan-David Velez, Jon Martine, Michael Polon, Russell Stolzoff, Ellen Freed, Holly Howard, Suzanne Piccard, Jane Harrington, Ken Jamatitus, and Karen Lackritz.